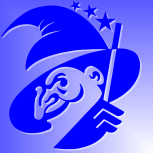 "Web Sites: This Web Site"
Page Built on 06-Mar-2009 at 00:23

All components of this web site were created, designed and coded by The Blue Wizard.

We design all web sites for ease of use, with data that is compliant with the standards specified by the World Wide Web Consortium (W3C) . Web pages can be validated at World Wide Web Consortium's Validator.

In addition to this, we design web sites for those with slower connections to the Internet, in the interest of "universal" access.
Content created: 09 May 2004
Content updated: 05 Mar 2009